CONSTRUCTION SITE CATERING
& TEMPORARY KITCHENS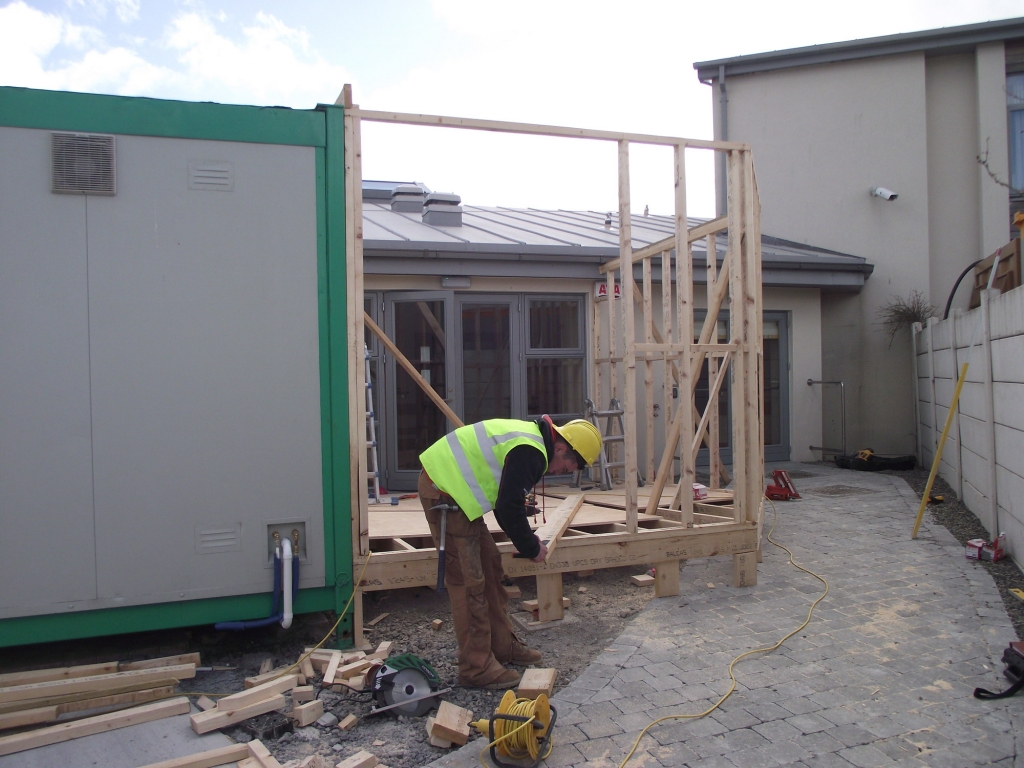 Site Canteens have become a regular feature at all large construction projects, many of these construction site canteens were supplied by CKF Hire. In addition, to Stand Alone Production Kitchens we have installed Multi Unit Complexes on larger projects which included Dining Units, Dry Goods Stores, Walk in Cold Rooms, Staff Changing Rooms, Toilets and more.
Refurbishment and upgrading of Kitchens has seen a recent upturn in activity, our Multi Unit Complexs have been employed during complete Kitchen Refurbishment by a large number of Hotels including The K Club Hotel 4 months refurbishment, The Green Isle Hotel 6 month Refurbishment, The Hilton Hotel, Charlemont Bridgge, Dublin 3 months Hire, Sligo Park Hotel 5 months, Wineport Lodge 4 months, The Mespil Hotel 4 months, The Wright Group Anglers Rest, to name but a few.
Industrial Caterers, Semi State Bodies and Institutions have employed our Cold Storage, Catering Equipment and Kitchens. Our Units have been employed in Portlaoise, Sheldon Abbey and Mountjoy Prisons and in Sarsfield Army Barracks in Limerick during their 14 month refurbishment. They have also been employed in Hospitals and Care Homes such as The Matter Hospital Dublin, The National Maternity Hospital Dublin, Santa Sabena Nursing Home Cabra and Cahercalla Community Hospital Ennis.
Leading Contract Catering and Hospitality providers regularly employ our range of Catering Equipment such as Fitzers Group, Compass Group, Sodexo Group, John Coughlan Catering, Masterchefs Munster, With Taste Banqueting and more.
Government Departments and Semi State Bodies have employed our Field Kitchens including Bord Bia who have used our Large Production Kitchens to support their Steakhouse Marquee at the National Ploughing Championships.The Department of Defence, The Coach House in Dublin Castle, The Department of Justice, FAS Centres in Dundalk, Tralee and Naas and many more.
From small to large projects it pays to keep staff on site and well fed. We have the solution for your requirements from a single mobile catering unit to something bigger, we can meet with you, access your requirements and recommend a solution. Our transport crew deliver with the minimum of fuss and our fully compliant units can be working quickly in less than 1 day for smaller projects. We can organise Electricians, Plumbers, Gas Fitters, Carpenters in fact all that is required to site and commission our units.
When sited we can provide all certification required and our engineers will commission, sign off and offer your caterers a demonstration to familiarise them with our equipment.
Caterers:
We have wide experience in dealing with Catering Companies and understand their requirements, know what is and what is not required for any given contract and if necessary we can recommend a Catering Company where none are in place. With construction work actually likely to rap up in 2014 and 2015, advance planning and early booking of units is advised.