MEDIUM KITCHEN
General Description
The MK 28/62 is a medium sized, high performance kitchen unit with space for up to four chefs to work in comfort. Featuring a wide range of standard equipment, this unit is purpose built to facilitate the production of up to 800 meals per day. Increased output is available through the hiring of additional equipment.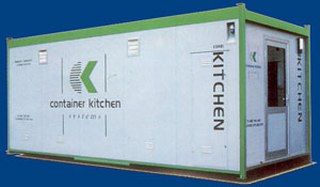 Catering Specifications – Standard Features
6 Burner Oven Range
Large Grill
Double fryer
Water Heater
1420 Bain Marie/Hot Cupboard
Insectocutor
Double Sink Unit with Wash-hand Basin
4.5 metres of worktop (inc. Bain Marie)
Foodsafe Wipe Clean Walls and Ceiling Cladding
Non-slip Flooring
21 cu ft Fridge
21 cu ft Freezer
High Powered Extraction System with S/S Canopy and Speed Controller
Cupboard and Drawer Facilities
Fire Extinguisher/Fire Blanket/First Aid Kit
Mini Tork/Soap Dispenser
One 1200 x 880 Serving Hatch
Length: 6.20 metres (20.34 feet)
Height: 2.80 metres (9.19 feet)
Height on Lorry: 4.10 metres (13.45 feet)
Gas: 28 mm Propane Gas connection supplied to automatic changeover valve requiring 4 x 47kg Gas Bottles – two on a line and two on automatic changeover/reserve.
Water: 1/2″  connection to mains pressure supply.
Width: 2.80 metres (9.19 feet)
Width inc. Jacklegs:
Weight: 4.0 tonnes approx
Power: Power requirements for standard equipment specifications: 63 amp 3 phase 5 pin plug
Waste: 1 1/2″  push fit plastic spigot connection point