CONTAINER KITCHEN HIRE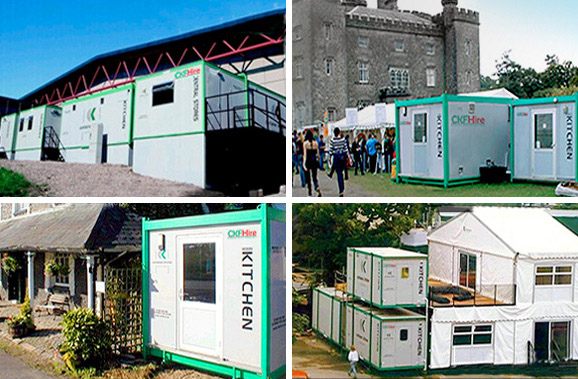 Our Container Kitchens started life as converted shipping containers often employed on Film Location Catering sets, these Units were very strong, robust and flexible. It soon became clear however that the demand for units and the ever more stringent Health & Safety legislation called for a more advanced purpose built unit to meet today's demands of High Production and compliance in Food Safety Fire Safety. The size and layout had to be perfected in order to comfortably allow a team of Chefs produce restaurant quality food in any location no matter how difficult or demanding.
Thus our new Units were born, Containers only in appearance each of CKF Hires Fleet is purpose designed and built to offer all a Kitchen should in a comfortable, safe, capable working environment.
Suited to many varied applications, our Kitchens have been employed at most of Ireland's top venues and hotels. Our Event Division have provided Event Hires such as Crew Catering at the Ryder Cup in the K Club, The Irish Open Golf Championships at Fota Island, Baltray and more, Artist Catering and Crew Catering and VIP Catering (See photo) at Slane Castle (Rolling Stones, Madonna, Robbie Williams etc) Artist & Crew Catering at Oxygen Festival. The Eagles , at Landsdowne Road Stadium, The MTV Awards at the O2 (Point) feeding 14,000 Corporate guests during the Punchestown Racing Festival or backing up the Champagne Bar at the Galway Tent during Raceweek in Ballybrit.