LARGE DISHWASHER
General Description
The LD 28/62 has been specifically designed to make life easier for the operator. Featuring two flows of traffic through a hatch on each side, a pre-wash sink, a deep, double sink unit and a high capacity dishwasher, the LD 28/62 enables the user to maximise efficiency. Offering ample workspace and shelving, this unit is ideal for both small and large catering operations.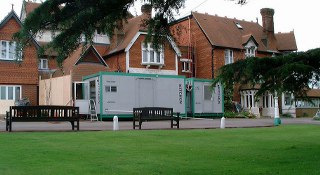 Catering Specifications – Standard Features
High Capacity Dishwasher
Deep Twin Bowl Sink Unit with Wash Hand Basin
Pre-Wash Sink Unit
One 770 x 770 Service Hatche
Approximately 3.5 metres of Stainless Steel Tabling
1.5 metres of 4 Tier Racking
Insectocutor
Water Heater
Scraping Table with Hole
Foodsafe Wipe Clean Walls and Ceiling Cladding
3 Twin Sockets
Extraction Fan
Two Storage Cupboards
Facilities for 20 Dishwasher Racks (8 racks supplied)
Fire Extinguisher / Fire Blanket / First Aid Kit
Mini Tork / Soap Dispenser
Non-Slip Flooring
Length: 6.00 metres (19.68 feet)
Height: 2.80 metres (9.19 feet)
Height on Lorry: 4.10 metres (13.45 feet)
Water: 2 x 1/2  connections to mains pressure supply
Width: 2.60 metres (8.53 feet)
Width inc. Jacklegs 2.85 metres (9.35 feet)
Weight: 2.20 tonnes approx
Power: 63 amp 3 phase 5 pin plug
Waste: 2 x 40 mm push fit plastic spigot connection point (i.e. 1.5″ plastic waste).