MIXED DOUBLE KITCHEN
General Description
This kitchen is designed to make the temporary catering facilities as compact as possible by combining a 6m production area with a 2.6m partitioned section which can be either a dishwashing or food preparation area. Alternatively the partition and the Dishwasher can be removed and the cabin becomes an LK 29/86. Features include a lift-out drainage grid in the floor, emergency cut-off buttons for gas and electrics, 'tumblair' extraction canopy and side/end multi link.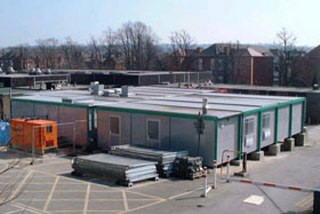 Catering Specifications – Standard Features
6 Burner Oven Range
Hood dishwasher (is standard dishwasher option)
Large Grill
Double Fryer
1420 Bain Marie/Hot Cupboard with S/S Worktop Cover
2 Water Heaters
1200 x 880 Serving Hatch plus optional second
10 Metres of Worktop (inc. Bain Marie)
Foodsafe Wipe Clean Walls and Ceiling Cladding
Non-Slip Flooring
Insectocutor
21 cu ft Fridge and 21 cu ft Freezer
High Powered 'Tumblair' Extraction System with S/S Canopy and Speed Controller
Mini Tork/Soap Dispenser
Floor drainage grid
Fire Extinguisher/Fire Blanket/First Aid Kit Fire Extinguisher/Fire Blanket/First Aid Kit
Emergency cut-off buttons for gas and electrics 
Length: 8.60 metres (28.22 feet)
Height: 2.90 metres (9.5 feet)
Height on Lorry: 4.20 metres (13.78 feet)
Gas: 28 mm Propane Gas connection supplied to automatic changeover valve requiring 4 x 47kg Gas Bottles – two on a line and two on automatic changeover/reserve.
Water: 1/5" connection to mains pressure supply.
Width: 2.90 metres (9.51 feet)
Width inc. Jacklegs: 3.25 metres (10.66 feet)
Weight: 5.25 tonnes approx
Power: Power requirements for standard equipment specifications: 125 amp 3 phase 5 pin plug
Waste: 1.5" push fit connection.