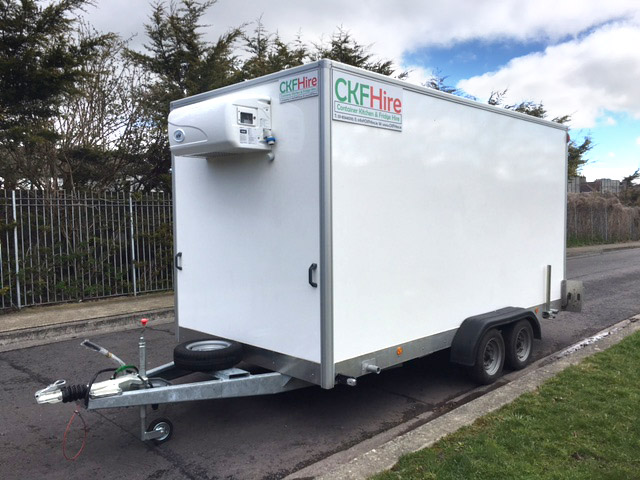 These state-of the art fridge/ freezer trailers are built with quality materials throughout and are designed to afford the user space, security and confidence in their ability to perform the task. The units, which are double axle to allow for road balance and load distribution, feature food safe walls and ceiling, non-slip floors and secure locking door.
The refrigeration plant used is the latest German technology with allows for dual temperature settings from 5 to -20, all exactly controlled.
Bigger and more versatile than previous towable fridges, these units are big enough to service Corporate Events, offer Christmas Cover, Emergency Breakdown Cover, Refurbishment Cover and a host of other uses.
New Features include:
Retractable step at door. This is very convenient, safe and cuts out the need to look for temporary solutions.
Automatic door switch which switches off the refrigeration plant at door opening thus avoiding ice build up and blockages, which affect the efficient running of plant.
Door switch which activates interim lights on door opening and shuts off lights on closing. This feature greatly increases efficient operation as lights left on whilst the motor is running can add up to 2 degrees to inside temperatures making the motor run harder.
Interior emergency door release.
Jacking points allow the trailer to be levelled on uneven ground.
Lockable tow hitch.
Secure lockable door.
Shelving, units come unshelved however shelving is available as an optional extra.
Interior floor drain allowing units to be easily cleaned.
Power cables available in various lengths.